The big question to begin this blog is 'what is influencer marketing?' now at a fundamental level, influencer marketing is a type of social media marketing that uses product mentions and endorsements from influencers to increase sales. These 'influencers can be defined as people who have the power to effect a consumers buying decision and has a particular following in a distinct niche.
Influencers can be categorized by their following to make tiers:
Source: https://later.com/blog/influencer-marketing-trends/
Influencers, unlike celebritys can be find anywhere around the globe and they can be anyone. There are influencers for every social media platform from Instagram right through to marketing executives on LinkedIn. Here are some crucial influencer marketing statistics:
Influencer marketing has grown to $13.8 billion in 2021
Businesses are making $5.78 ROI for every $1 spent on influencer marketing.
There has been a 465% increase in searches for the phrase "influencer marketing" on Google alone since 2016.
90% of survey respondents believe influencer marketing to be an effective form of marketing.
67% of brands use Instagram for influencer marketing.
Source: https://influencermarketinghub.com/influencer-marketing/
Social media is constantly evolving with Tiktok rising 325% in just one year, it has given normal people the opportunity to build their own brand through simulating content and engagement. These new influencers are more relatable than traditional celebrities which helps brands to reduce marketing waste resources by using them to deliver core messages to their consumers.
In a survey with Sprout Social 89% of respondents said ROI from influencer marketing was comparable or better than other networks. This demonstrates the advantage in using influencer marketing within your strategy. It was also found that 86% of women use social media for purchasing advice, this statistic should be extremely important for any brand who have women as their primary target audience.
When discussing the main KPI's (key performance indicator) for influencer marketing, it is important to monitor the following:
Reach – this can be measured based on the number of followers.
Clicks – click through rates are one of the most important performance-based metrics
Engagement – this includes any social action (like, save comment and share) This can measured by hashtag performance and insights.
Conversion – these are for the sales, completions and purchases from the sales. Influencers are required CRM links and promo codes for attribution.
There are huge advantages to implementing influencer marketing into your marketing plan, here is just 4 of those reasons:
Improves brand awareness Influencer marketing can greatly expand your brands awareness and positioning online, it allows socials users to know more about your brand, your story and the products you offer. With the correct tactics, it can also be great for driving followers for your own social platforms.
Quickly Builds Trust Influencers over time have built relationships, trust and credibility with their influencers which means people trust their recommendations. Traditional advertising is no longer trusted by a large proportions of audiences so authentic brand mentions for new and upcoming brands is great for credibility.
Effectively reaches your target audience Through relevant influencers, your brand can be marketing within a pool of social users which are already interested in your specific niche eg. Sportswear. This means that you're targeting the correct audience just by choosing the correct influencer to use within your campaign.
Provides you with a content strategy Sharing influencer content can help and support you when filling in the gaps of your social media schedule and can also work really well in driving engagement to your page. With the correct consent, you can also use this content for website too.
Case study:
CASETiFY is a tech accessory brand specializing in phone cases, AirPods cases, watch bands and other tech accessories. They've built a name for themselves with Military-Grade Drop Protection and iconic style collaborations with designers and influencers from around the globe.
Founded in 2011, Casetify claims to be the "fastest growing global tech accessories brand for millennials." Their phone cases, Apple watch bands, and various other tech accessories can be seen in use by a slew of celebs ranging from Gigi Hadid to Dwayne Wade.
One particular campaign Casetify launched was their YouTube campaign. This consisted in them asking various macro and celebrity influencers to drop their phone which had one of Casetify's cases on and show that their phone remained unbroken. This campaign was massive and since this influencer strategy, Casetify has grown into one of the three biggest accessory brands in the world.

3 influencer marketing campaigns for 2022
Authenticity over perfection Authenticity on social media is one of the most effective ways to build a digital community, and it's become a growing influencer marketing trend too. Creators are shifting away from the perfectly curated feed aesthetic and choosing to share less filtered and more in-the-moment photos of their lives. It is important to partner with influencers who know how to create ads and sponsored content that don't look like ads and focus on the creators who foster real relationships with their community and offer valuable authentic content.
A Shift to Video Content Partnerships With the growing popularity of TikTok and Instagram Reels, vertical video is rapidly becoming the must-have format for influencer marketing. In other words, video content will reign supreme in 2022. Most social platforms such as Tiktok and Instagram are pushing video content up their algorithm which gives brands massive potential in sales and growth.
The rise of Nano and Micro influencers Nano and Micro influencers have incredibly niche communities' brands can tap into, making their product recommendations seem like they're coming from a friend or trusted confidante. And while they may not have massive followings, Nano and Micro influencers still have a significant social presence, with up to 100K followers.
In fact, 82% of consumers said they're likely to buy something recommended by a micro influencers. Most of the time, micro influencers will work on a gifted basis which means the cost of the collaboration is kept to a minimum whilst maintaining the high engagement rates which in turn, makes a great advantage for new businesses to capitalize on micro influencers.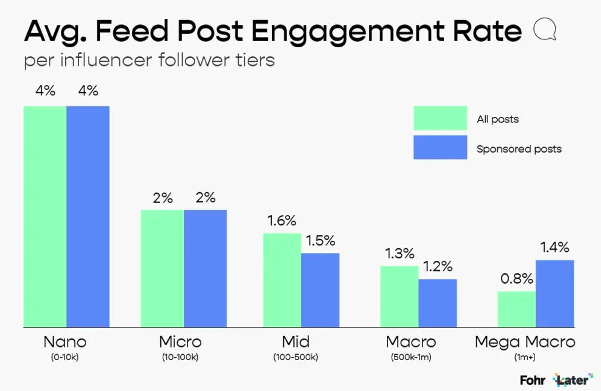 For a detailed understanding of UK media and how to make the best choices to drive growth for your brand contact us.
Wesconnex is a unique marketing agency, established to help emerging Chinese brands grow faster and more efficiently in the UK. We provide localised Marketing Strategy & Planning, Ad Optimisation and Creation, and Content Marketing.