It's a surprising fact to many marketers in the UK, that the average UK citizen watches 17 minutes of TV advertising each day, but only one minute of online video advertising (WARC Research, 2019). This surprises many people because they're constantly told that traditional media is dead and any marketing other than online marketing is a waste of time. And while it is true that online marketing (that term includes SEO, PPC, video and email) should be a part of any brands communications it's important to look at the way that UK consumers actually use media in order to make informed decisions about what is the right mix for a particular brand.
This is true for any brand entering the UK market, but especially so for Chinese brands, given that the overall media landscape, and especially the online ecosystem, are completely different. While the Chinese market is more heavily skewed towards digital, in the UK there is more of an equilibrium to strike between online and offline channels.
Let's look at the reality of how adults in the UK aged +15 consume media (Source: IPA, 2019). In the chart below we can see that overall consumers spend more time watching TV than browsing the internet and using social media combined. Because of the structure and evolution of broadcast television, UK consumers continue to have a close relationship with the broadcast TV brands and it remain an important media for entertainment and news. When the UK Prime Minister recently made a TV broadcast about the Corona Virus, it was watched by the third highest TV audience ever, 40% of the population (27 million people).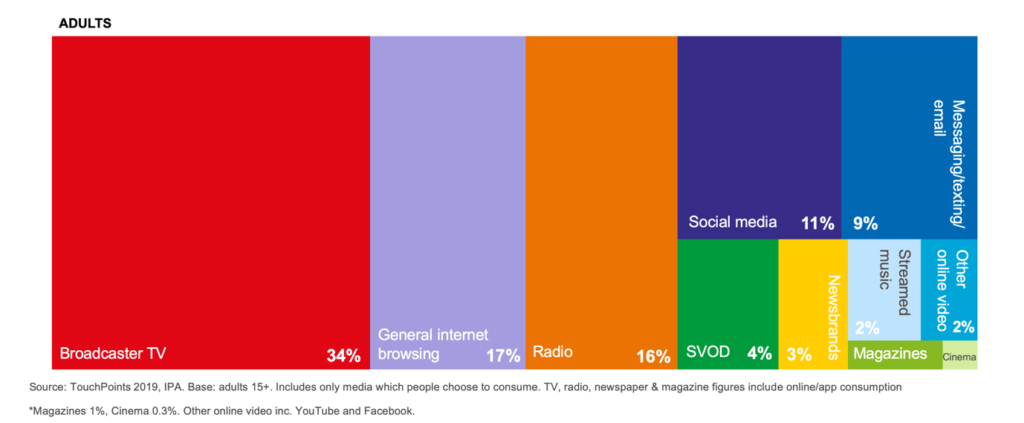 But what about the habits of a younger demographic, so called digital natives? Looking at the chart below for consumers aged 16-34, the percentage of time spent watching broadcast TV has fallen from the all adults figure of 34% to 19% for ages 16 – 34. Young people generally have busy social lives so it's not surprising that they watch less television.
But what about their consumption of online media? In some aspects the difference between all adults and adults 16-34 is small. For example, general browsing of the internet is almost the same for all adults and those aged 16-34 (17% Vs 19% respectively).
There is a bigger difference when it comes to social media usage. Those aged 16-34 19% of their media consumption is on social media, but for all adults the figure is 9%. There is also a big difference with Messaging, emailing and texting (ages 16-34 16% Vs all adults 9%), but these media are generally not useful to brands trying to grow their brands.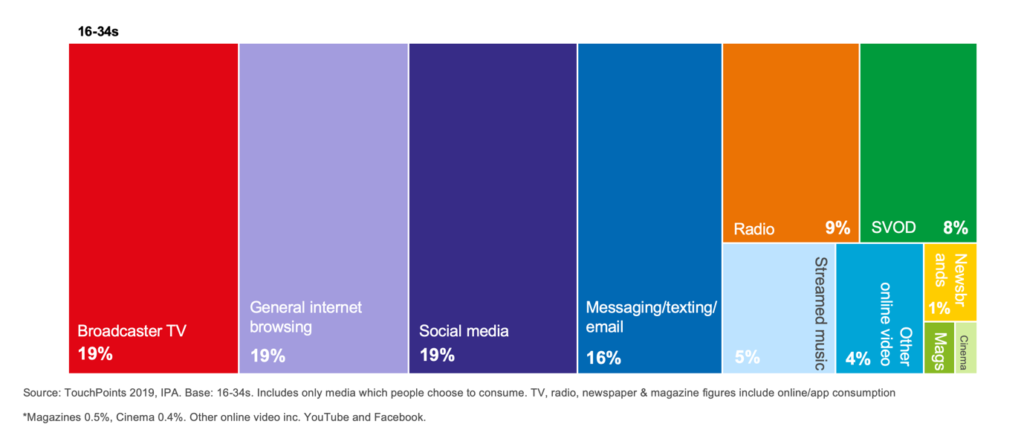 In the UK which are the most popular social media? According to research by YouGov (2019), Facebook is the most popular, Youtube is second, Instagram third and Twitter fourth.
FACEBOOK 78% of UK internet users use Facebook and approximately 71% of UK adults (+13 years old) can be reached with ads on the platform. However, it's not just the young that use Facebook. 37% of its users are aged 35 – 54. This is older than the UK average, where across all social media only 17% of users are aged 35 – 54.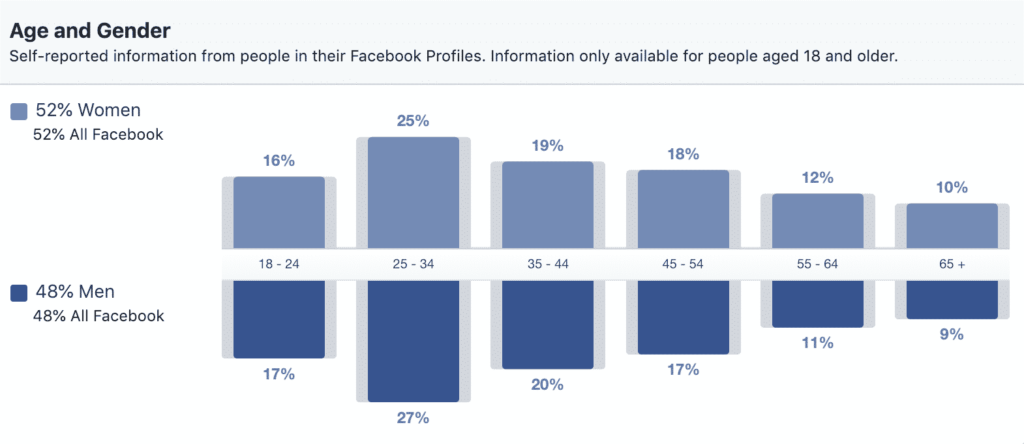 YOUTUBE Although Youtube is a video viewing platform and not strictly social media, in 2019, 37.1 million UK adults used Youtube. In addition to the millions of cat videos, in the last couple of years product review videos have become increasingly popular with consumers who like to be able to see how a product works.
INSTAGRAM There are about 24 million Instagram users in the UK. The gender split is slightly skewed towards females (54% vs 46% males). Instagram is a popular choice with fashion brands for promoting their latest clothing.
TWITTER According to Twitter, 13.6 million people in the UK can be reached by advertising. Twitter users are more likely to be male (60% male and 40% female). Many brands use Twitter as a consumer communication channel, handling consumer enquiries and complaints, and announcing new product launches, sales, etc. All the above social media have been in the UK for many years with established audiences and slow growth, but the fastest growing social media app is TikTok, the name for Douyin in Western markets. More UK teenagers are now using TikTok than Snapchat and Twitter. Not only is the social media landscape different in the UK compared to China, but so is the way consumers use social media. While the average time spent on social media is similar: 1 hour 50 minutes in the UK Vs 2 hours 6 minutes in China (Source: Statistica, 2019), behaviours are a little bit different. Both Chinese and UK consumers like reading reviews on social media, but UK consumers are, in general, more sceptical and less likely to make purchasing decisions based on the recommendations that they find online. The recommendations of Chinese key opinion leaders have become important marketing tools because consumers see them as experts on different subjects. But in the UK, influencers have a less influential role. Their content is seen more as entertainment as there is general consumer awareness that the influencer is being paid or trading access to a brand for impartiality, therefore their comments should be taken with a pinch of salt. The type of influencer that is popular is also different in the UK. The most popular influencers are typically entertainment brands, for example, of the top 10 Facebook influencers in terms of engagement, six are football clubs and one is the Premier League itself. Of the other three, two are media (the BBC and the Daily Mail newspaper) and the other is the Mercedes Formula 1 team.
The same pattern is repeated with hashtags. The most popular also relate to entertainment brands, for example, the TV programme Love Island, or the football club Manchester United, or big events like elections or Brexit, or generic hashtags like #competition, or #giveaway.
The topic area of a post can affect when consumers are most likely to interact with it. The best times for brands to use social media are generally in the middle of the week, but technology brands generally get the highest engagement by posting on Wednesday, around 9.00am – 10.00am. For technology brands there is also a second peak on Friday at about 7.00am, but this not the same for consumer goods brands which get the highest interactions on Wednesday afternoon around 3-4pm. The differences in interaction are small, but over time they add up to make a big difference to the effectiveness of a brand's communications.
There are many considerations when deciding on the right media, and the right time to use it for your brand. Of course there are some obvious choices, like PPC and Search, that almost every brand can benefit from, but even getting the most out of these media requires local knowledge and experience. Many brands don't use any other media, but in our experience this is a mistake that ultimately limits their growth because they are missing out a sizeable section of their target audience. They are also missing out on the multiplier effect of using different media together.
When adding offline media to their mix a brand can reach new customers with the added benefit that the offline media can give a boost to the performance of their PPC and Search as more consumers become aware of the brands name. In the UK many media are much cheaper than expected and used by a wide range of smaller and start-up companies. For example, in 2018 (Source, BARB 2018) 400 first time TV advertisers spent less than GBP10,000 and 250 spent less than GBP5,000. Not only did their TV ads drive sales, but thanks to the multiplier effect these brands benefitted from an average increase in overall marketing effectiveness of 45% (Source: Thinkbox, 2019).
For a detailed understanding of UK media and how to make the best choices to drive growth for your brand contact us.
Wesconnex is a unique marketing agency, established to help emerging Chinese brands grow faster and more efficiently in the UK. We provide localised Marketing Strategy & Planning, Ad Optimisation and Creation, and Content Marketing.